Yes, SEEING IS BELIEVING and BELIEVING IS SEEING. So watch me go from product conception to product creation to an avalanche of orders within 24 hours...
Model Me LIVE...
as I Pull Back the Curtain and let you 'WATCH ME' Conceive, Believe and CREATE an info product right before your eyes and have it selling like chocolate online within 24 hours!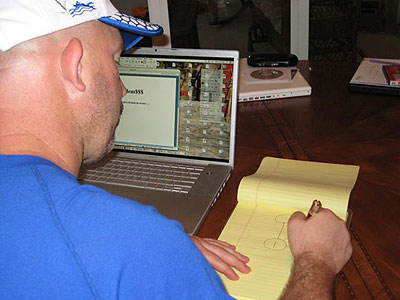 Matt Furey creating a product.

Starting Time: 11:08 A.M.

Dear Friend,

What would your life be like if you got out of bed in the morning and within the first hour of your day, you came up with an idea for an information product - and within 24 hours you had the product created and selling on the Internet?

Now let me ask you, if you possessed this seemingly rare ability to get things done FAST, how would it change your life for the better - forever?

Would you now have the power to pay off all your bills instantly? Would you have the ability to buy what you want right NOW? Would you have the time and freedom to travel the world?

Moreover, would it be possible for you to sort of live and work like the BIG CATS living in the great outdoors? And by this I mean you become so proficient at what you do that you can spend much of your day in a state of relaxation and calm. You have time for exercise, friends, family, reading and movie going. Your life is no longer "work, work, work." Instead your life is "work/play, work/play, work/play."
Speed and Success Go Hand-in-Hand
A few years ago I remember telling a colleague that I believe I could get up each day and create a new information product and the marketing campaign that goes along with it, and repeat the process every single day for one year.

Perhaps I exaggerated a bit. After all, 365 info-products along with the advertising that goes with them in 365 days is a LOT. But what if I could do it 30 days in a row? Or five days in a row?

Would this ability help catapult me into a new Universe? A Universe in which I can earn as much income as I desire while helping to make the world we live in a much better place?

Absolutely.

Hi, my name is Matt Furey and I got started on the Internet nearly 15 years ago. When I began I was broker than broke. Since then I've done well enough to be semi-retired.

Part of the reason why I'm semi-retired is due to the fact that I can create info-products very, very fast and get them online and selling - all within a span of 24 hours - if I so choose.

In case you haven't followed my journey, let me give you the short version. I've written international best-sellers in health and fitness, such as Combat Conditioning and Combat Abs. I've also put together DVD programs like How to Eliminate Carpal Tunnel Syndrome Pain Within 30 Days and CD programs like Magnetic Mind Power, The Furey Fat Loss Diet and so on.

Altogether I've sold hundreds of thousands of my products world-wide, in the beginning it took me a long time to create a product, an ad, an article - even an email - mostly because I had no one to MODEL. No one whom I could watch as he created a product or wrote an ad - or launched a new website.

And because I had no one to model, it took me a lot longer to succeed online than it would have if I could have looked over a master creator's shoulder and seen, first-hand, how he does it.

Think of this: How much time could I have saved if instead of going to seminars in which bits and pieces of formulas were taught, I got to WATCH the entire creative process done LIVE?

A friend once told me, "If I can SEE the process of something done before my eyes, then I know how I can duplicate it. But if someone only tells me how to do something but doesn't SHOW ME, then I tend to doubt whether I can do it myself."

Sound familiar?

Four years ago I put ten people in a room at $10,000 a person. And over a two-day period I taught these men and women how to write incredible emails that make money for their businesses. I had 100% success with these students because I MODELED for them what they needed to be able to do themselves. In SEEING me do it they learned to BELIEVE in their ability to do likewise.

Two years later I held the another email seminar - but instead of ten people, I had almost 60. Once again I modeled my unique formula for all eyes to see.

Guess what happened as a result?

An entire room full of men and women, most of whom had never written promotional style emails before, were writing some of the best material I have ever seen.
The POWER of MODELING
If you have a teacher or mentor who instructs via the standard method of lecturing, you can achieve results. But if you have a master creator who lets you observe his entire process and allows you to model every aspect of it, you now have the tools to LEAP FROG all the obstacles that you thought were standing between you and success.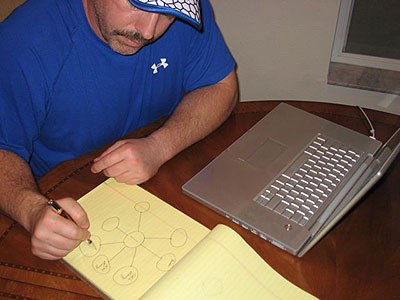 Matt Furey shows you his method for conceiving, creating and selling a product.

Imagine being able to sit and observe every detail of what I do to create and launch a new money-making product, including:
• How I come up with a great idea

• How I research the idea to see if it's viable

• How I outline or mind map the product

• How I write the ad for the product

• How I title the product

• How I price the product

• How I add incentives or premiums to the product

• How I build excitement around the product in social media

• How I write an email about the product

• How I create audio and video for the search engines to drive traffic to my site about the product

• How I get REAL testimonials for the product

• How I sit, stand, walk and move around while creating the product and the ad for it

• How I breathe when creating

• How I mentally picture the result I'm creating

• How I talk to myself while creating

• How I work, rest and relax to get more done FAST

• How I create the actual product in a state of effortless flow

• How I react if and when I make mistakes

• How I put myself into a powerful psycho-physical state of being when I launch the product

• How I react when the orders for the product begin to arrive in my in-box

• And so on!
How You Learn Best
The truth is that we learn best when we can see a master do what we want to learn - and if we're also allowed to ask questions to make sure we're modeling the other person correctly, we feel like we can take off at the speed of light.

Yes, the fastest, easiest way to picture yourself creating and selling an info-product is being able to watch a MASTER CREATOR go from conception to creation to income right before your EYES!

And that's exactly what I intend to do on December 4-5, 2009, in Clearwater Beach, Florida, at my Model Me Seminar.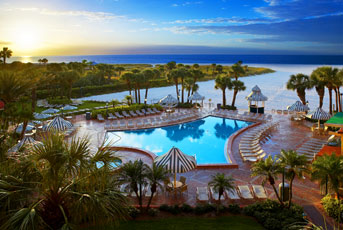 Site of Matt Furey's Model Me Seminar in Clearwater Beach, Florida.

I'm going to enter the conference room and begin going through my entire process for you. Instead of lecturing to you, I'm just going to do it and let you play Peeping Tom, without all the windows, shades or curtains.

That's right, you'll be sitting in the same room observing every move I make, every breath I take and practically every thought I'm thinking.

I'll be going through my entire creative process on a big screen so you can follow along with me - and if you have a pulse, I'm betting you'll be coming up with a WINNER yourself as you watch me create mine.

Ideas will flow like water over a seal's back. The room you're in will have so much creative energy buzzing around that you'll be wired from head to toe, inside and out.

As you sit there WATCHING/DOING along with me, the room will be so quiet you'll be able to hear a pin drop. You'll be in the Zen Master's laboratory, sanctuary and private meditative chambers, all in one.

You'll be amazed as you see me energize myself before writing with high-powered super brain breathing exercises I've never revealed before. You'll watch as I connect to the force before creating my product.

You'll be in awe as you learn how I'm able to get myself to write riveting copy for the web - as well as for an email - on command.

And when my Day One is over, you'll be so wired you won't even want to go to sleep. Instead, you'll have the white sand of Clearwater Beach and the rolling waves of the Gulf of Mexico to walk alongside as the sun sets.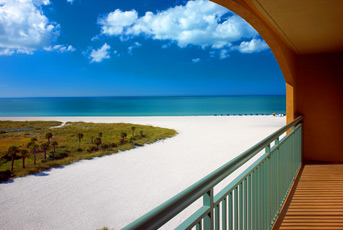 View of Clearwater Beach from the hotel at Matt Furey's Model Me Seminar

The next day I'll launch the product on a brand new web page and I'll keep you updated as the orders begin to roll in.
And then... you get to ASK ME any question about the creative process you just observed.
You get to ask me what I was thinking, how I was using my mind and body to propel myself into action.

You get to ask me about how I was breathing to energize myself and the product I was creating.

You get to ask me about the copy I wrote and how and why I wrote it the way I did.

You get to ask me the how and the why about the product I created.

You get to ask me anything you want that will help you MODEL ME more effectively.
Tweak and Perfect Your Own Ideas
With Me and My MasterMind Students
In addition to the above, on Day Two you will also be given the opportunity to ask me and my highly regarded group of MasterMind students how to tweak and perfect your own idea for a hot selling info-product. This opportunity alone is easily worth the entire amount for this program.

I know this for a fact because I've watched how far my MasterMind students have come with the very process I'm describing. In a single 10-minute session, I've taken men and women with fear of failure, fear of success and other psychological blocks - and I've removed them quickly, easily and painlessly.

It comes as no surprise to me at all when the next time I see these same people, they have completely finished info-products to show off that are already selling online. I'm proud as can be when these products are autographed to me, with gratitude and appreciation.

And Then on Day Three, You'll Learn
the Banned Secret of Success that No One Else
Has the Guts to Tell You!
Napoleon Hill wrote about this secret but did not go into detail. And when his world-wide best-seller Think and Grow Rich was made into audio, many of the companies who had the book narrated, deliberately and intentionally left out this secret.

Why? I guess it was too controversial for the simple-minded.

What was this secret related to?

It was related to a "dirty" 3-letter word that all of us are very familiar with... S-E-X.

But it wasn't SEX in the way most of us think about the word. It was the process of transforming sexual energy into dynamic power. The type of power you can use to make best-selling products, to be FAR more creative than you've ever been before, to been known as a dynamic force in the world.

What a concept to introduce to the world back in 1937 - but the truth is the idea is nothing new - at least to those who learned about it (damn few).
SEX: The Most Powerful Energy Ever Known
The most powerful energies known to man and woman are sex and love. All of us are here on this planet because of these driving emotional forces.

Highly regarded marketers use SEX in ads all the time, and most of the usage is totally undetected by your conscious mind, even when it "should" be obvious.

The other night I was watching a commercial during the World Series, promoting satellite DirecTV. The use of red licorice was classic. As well as the woman's purring voice toward the man. All of it was pure SEX ENERGY - and for what? To get you OFF cable and ONTO satellite.

Commercials selling cars, chocolate, perfume, deodorant, soap, clothes, shampoo and diet soda also use SEX ENERGY. And although the sexual suggestion in the ads is so blatant it goes right past most peoples' filters and into their subconscious minds.

But that's not the THRUST of what Napoleon Hill was talking about. He used a term that most-people don't quite comprehend: Sex Transmutation - yet he didn't explain it and the companies who had recordings of his book made oftentimes banned that very section.

Yet, doing so only showed how little the companies know about this very secret. What a monumental mistake to leave it out.

One thing Hill was not clear about himself was what Sex Transmutation really means. He tried to be clear - but did a poor job. On the one hand he said that most men don't become millionaires until after 40 because they're out sewing their wild oats. To turn this around they needed to learn how to take their sexual energy and use it for creative endeavors - as well as for the attraction of wealth. On the other hand he said that all successful men were highly sexed. Huh?

Talk about confusing!!!

In order to become highly creative, even at the genius level, do I sew my wild oats or do I abstain? Or a combination thereof?

Well, let's put the archaic language of "sex transmutation" aside for a moment. You know what SEX is. You also know what a "driver" it is. Men and women will do almost superhuman or insane things in pursuit of better SEX. So let me ask you: What if you learned how to channel all that super potent sexual energy and used it for anything in life you so choose? Including your business; including the attraction of greater health and wealth?

And what if there was a way to channel the energy from both sides of the fence. You could learn to channel sexual energy for creative purposes at any time of the day, regardless of whether or not you're having sex. You could do it by learning a few breathing techniques and physical exercises. Or you could do it by engaging in sex and using the energy from it for even higher purposes.

EXCITING?

Think of the possibilities. Once you learn how to take the energy you have for SEX and use it to enliven and enlarge other areas where you have unfulfilled goals and dreams, your whole life takes on a brand new luster and hue.

Dr. X's Banned Secret
On Day Three, I'll be joined by Dr. X, an M.D. who has been using and teaching the art of sexual energy cultivation for years. In fact, he used this secret way back in medical school, when he had to go without sleep countless times, yet still be ready for action each and every day.

He's previously taught his secret to thousands, but never at a business seminar. Why now?

Because when I met this doctor a little over two years ago at one of my seminars, he was amazed when he saw me pulling energy up to my brain before writing an email or doing anything else highly creative.

Afterward he came up to me and we talked at length about what he saw me doing. He was amazed to find someone in business using the secret he discovered over 20 years ago.

At that moment I promised I would eventually introduce him to you at a future event - and it's going to take place on December 6, 2009.

Dr. X is going to blow your mind with what he has to teach - and when you combine it with what you learn from me on Day One and Day Two - this event may end up being the greatest single event you've ever been involved in.

First of all, to be given an opportunity to MODEL a master creator is huge indeed. Tony Robbins has made no secret of the power of modeling in his sold-out events. When you are given all the tools, the seen as well as the unseen, you've been given the keys to the kingdom of success.

Modeling a master creator takes the guess work out of success. Modeling helps you eliminate and obliterate other factors, like genetics, that so many people think are the cause of success. The cause of success is understanding how to think, how to picture things, how to ask questions, how to breathe, sit, walk, talk and write.
Your Dream Life, NOW
And once you realize what the successful person does - and how he does it - your chances of succeeding accelerate exponentially. Can I unequivocally guarantee your success? No. To do so would be against the law.

At the same time I think you understand what being able to SEE a master creator in action, LIVE, teaching you by doing instead of by lecturing, can do for that part of your mind that really, really wants to be successful.

I've never met anyone else who was willing to let me into his home or office or conference room so I could model his precise formula for creating best-selling info products. It's far easier to stand and lecture rather than put your testicles on the line.

But put them on the line, I shall. And I've love for you to join me.
How Much This Event SHOULD Cost
Years ago I was advised by the legendary Dan Kennedy to hold an event similar to this. He told me the right fee would be around $15,000.00.

Yesterday when I finally decided to move forward on an event like this, I talked to a couple marketing friends, and they said I should not do an event like this for less than $10,000 because I'm giving away trade secrets that no one else will ever give them. No one else dare put his rumpus on the line.

I thought about both amounts very seriously. And although I'd like to charge $10,000 to $15,000 - I'm going to bend over backwards and offer this program for far less.

In fact, I'm going to make it available for only $5,000.00.

BUT... if you enroll TODAY, and if you're one of the first 25 people to sign on NOW, I'm going to drop the fee even further. I'm going to drop it all the way down to $2,495.00.

AND... as an added BONUS, I'm going to make sure you're one of those who gets a "hot seat" before the group OR a private 60 minute one-on-one consultation with me by phone - a $1,000.00 value.

This event is PRICELESS. I suggest you enroll at once so you can begin to MODEL ME immediately.

See you on the beach in Clearwater, Florida.

Best,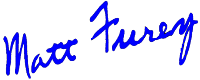 Matt Furey

P.S. I forgot to mention, prior to the morning session each day, there will be a workout with me on the beach, wherein you'll learn exercises that will get you into the very best shape of your life.

P.P.S. Also, I don't think I mentioned that I'm also going to introduce you to "my team" of experts who have helped me greatly. You'll be able to bounce ideas off them too.

P.P.P.S. And, as always, an event like this is a superb way to connect with like-minded people as well as to find key Joint Venture partners. This value alone is HUGE!

Finish Time: 2:08 P.M. - Total Writing Time - 3 Hours

Note: This promotion may contain typos and other grammatical mistakes. But I wanted you to see that I put this puppy together in three hours and got it online FAST - something I'm going to MODEL for you LIVE next month. Come learn how I do it so you can MODEL ME.

Final Note: The current fee for this event will go up each day until the event is full, so expect the current amount to change within 24 hours.

---


E-mail: info @ modelmeseminar.com




Copyright © 1997-2009 Gold Medal Publications, Inc. Matt Furey, Combat Conditioning, and Gama Fitness are registered trademarks of Gold Medal Publications, Inc. and Matt Furey Enterprises, Inc. All rights reserved.

Except for public domain material and electronic messages, all materials on mattfurey.com or any other site owned by Matt Furey, Matt Furey Enterprises, Inc. and/or Gold Medal Publications, Inc. are protected by Federal copyright and are protected under treaty provisions and worldwide copyright laws. Materials contained in any part of mattfurey.com may not be reproduced, copied, edited, published, transmitted or uploaded in any way without the written permission of Matt Furey Enterprises, Inc & Gold Medal Publications, Inc. Except as expressly stated in the Limited License provision in these Terms of Use, Matt Furey Enterprises, Inc. & Gold Medal Publications, Inc. does not grant any express or implied right to you under any of his trademarks, service marks, copyrights or other proprietary information.